Creating a Minimalist Dining Room Design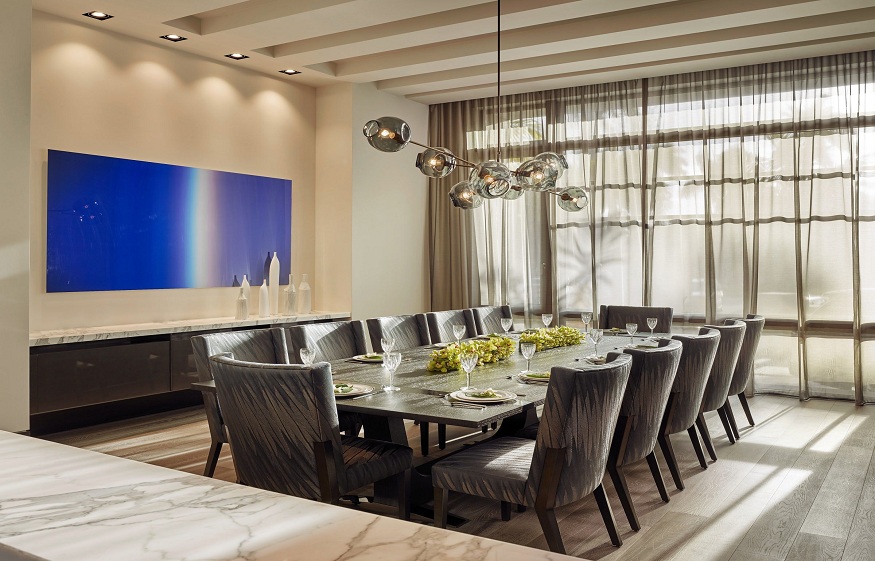 Most homeowners prefer a minimalist dining room design these days. This is because urban homes are quite small, and a minimalist dining room design makes the area appear more spacious. The area stays very neatly organised and clutter-free. As a result, there is more space for the smooth flow of traffic as well. Moreover, you can add a touch of elegance to the space by opting for a minimalist look.
However, many people are under the impression that creating a minimalist design means you will have to get rid of everything. It is not true at all. You get to keep all your favourite items in the dining room. Instead, you get rid of the not-so-essential items that help to create additional free space.
Creating a minimalist dining room is simple. You just have to follow a few basic rules. If you are not sure how to do it, here are a few tips for your minimalist dining room idea:
01 of 04 Stick to neutral colours
Colours play a very crucial role in setting the mood of the space. To create a minimalist dining room design, one of the first things you will have to focus on is the colour. In a minimalist setup, you should only stick to neutral tones for all the elements, including the walls, window treatments, furnishings, etc. Do not worry if you feel slightly restricted while choosing the colour. There are lots of neutral colours you can combine to create a calming and sophisticated design. Just make sure that you do not overdo it. Adding too many colours can make the interiors feel overwhelming.
A few popular neutral shades that can be used in almost any interior design are:
White
Blue
Brown
Beige
Grey
Ideally, three colours should be used in the room; a base colour, a secondary colours, and an accent colour. Also, make sure that the three colours in your dining room idea complement each other.
02 of 04 Well-lit interiors
One of the most crucial factors of a minimalist dining room design is lighting. The lighting can make or break a place. You should very carefully create well-balanced lighting for your minimalist dining room. Make use of natural light properly for this purpose. Many experts suggest getting rid of window treatments if possible. It will allow more natural light to enter. However, if you need privacy, you can go for sheer window treatments that allow natural light to enter. Also, place your dining room furniture slightly far from the windows so that maximum light can enter indoors.
Not all dining rooms receive a lot of natural light. This does not mean it has to appear gloomy. You can create great lighting for your minimalist dining room using lighting fixtures as well. There are many different types of lighting fixtures available in the market. Look for simple, compact, and elegant options that will light up the space while elevating its aesthetic beauty. You can consider installing dimmer switches as well so that you can control the brightness level according to your preferences.
03 of 04 Get rid of unnecessary items
When you are creating a minimalist dining room, your focus should be to reduce the number of items in the dining room. This will help to maximise the space available indoors. Also, it will appear brighter and more organised. Hence, you should start removing the items that you feel are not required. This can include your pile of magazines, decor items, and various other items that stay scattered in the room. However, removing them does not mean throwing them away. You just have to keep them away from clear sight. Various smart storage solutions can be created to store them in your dining room.
Just ensure that you do not end up getting rid of any essential items. It will reduce the functionality of the space. People often end up making this mistake while trying to remove unnecessary items. Some experts say the best way to do this is by keeping only those items in the room that will be used there.
04 of 04 Always buy good-quality furniture
As mentioned earlier, you should try to minimise the number of items in your dining room decor. Hence, it will contain only a handful of items. This means that the furniture pieces will stay in focus and impact the overall look of the room. If you buy poor-quality furniture, it will stay highlighted and ruin the look of your minimalist dining room decor.
Good quality furniture pieces will look stylish and appealing. They will elevate the appeal of your dining room interiors. You can make them the focal point of the room as well.