Why to Opt for Veneer Sheets?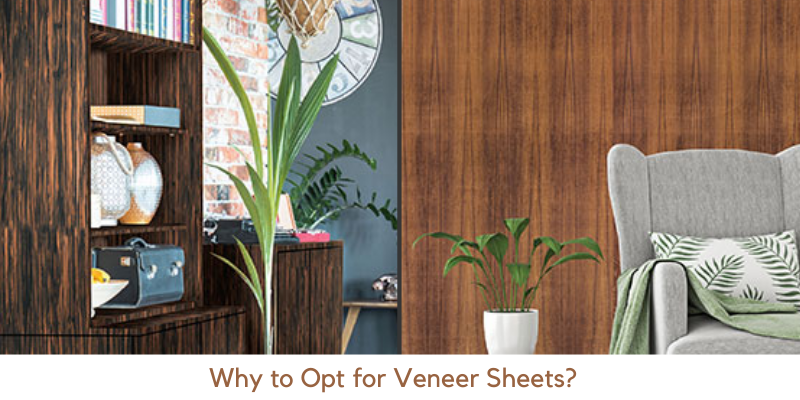 A veneer is a thin slice of wood used to finish various kinds of furniture, including beds, cabinets, and walls. Wood veneer sheets, which are usually pasted on MDF, blockwood, or ply board, are crafted from a variety of wood species, including oak, mahogany, maple, black cherry, ash, and so many other species. With high levels of durability, elegance, and comfort, the result is guaranteed to leave an impression on the recipient.
During the renovation or construction of any house, the question that arises is "Why veneers? What does it have to offer, why are the options in veneers." Have you ever had similar thoughts? The question comes up almost every time someone has a conversation with an interior designer about veneers.
First and foremost, veneers are a top choice when it comes to finishing touches. Surfaces look better finished with veneers, and it brings out the beauty of it really well! It displays the warmth and unpretentious kindness of wood that this nature has to offer. Using wood creatively when the world is made of cement creates a soothing environment for the people living in the house.
Veneer has higher durability and strength when used in combination
The use of veneer sheets improves the durability and strength of furniture items and adds elegance. In the absence of veneer sheets, roughly finished fibreboards, like HDF or MDF, are vulnerable to damage from water. As a result, veneer sheets prevent furniture from getting damaged and increase their durability significantly.
Veneer is an eco-friendly material
Wood veneers are environmentally friendly because many veneers can be made using the same log. On the other hand, hardwood furniture is made from many logs. In addition, wood veneer sheets are easily recyclable where they are crushed and converted into wood fibres. These wooden fibres are then used to manufacture particle boards.
Veneer offers a variety of options
The design of every wood veneer sheet is different because each veneer sheet is taken from a tree and the same trees have distinctive patterns in different layers. There is a virtually unlimited variety of wood veneers available. Veneers are customizable by using varnish and polish, which offers a new appearance to furniture unlike laminates.
Veneer provides an aesthetically luxurious outlook
Whatever the case, for most property owners, décor plays a crucial role in their homes and businesses. No matter what application the wood veneers is used for, they add a luxurious appeal to living areas, giving them a luxurious appearance.
Veneer is a non-toxic material
Unlike laminates, wood veneers come from natural sources and do not usually emit toxic substances. In addition, there are non-toxic adhesive materials available on the market nowadays that do not emit any volatile organic compounds, which are an environmental hazard. In order to paste wood veneers on any substrate, these adhesives can be used effectively.
Veneer offers versatility
Veneer sheets are practical in a number of ways and can serve a variety of purposes. As wood veneer sheets can easily be applied over curved surfaces, they are generally recommended for interior applications. It's a good idea to consider decorative veneersheets if you're looking to experiment and don't want to compromise.