Top 10 ways to decorate your house before Christmas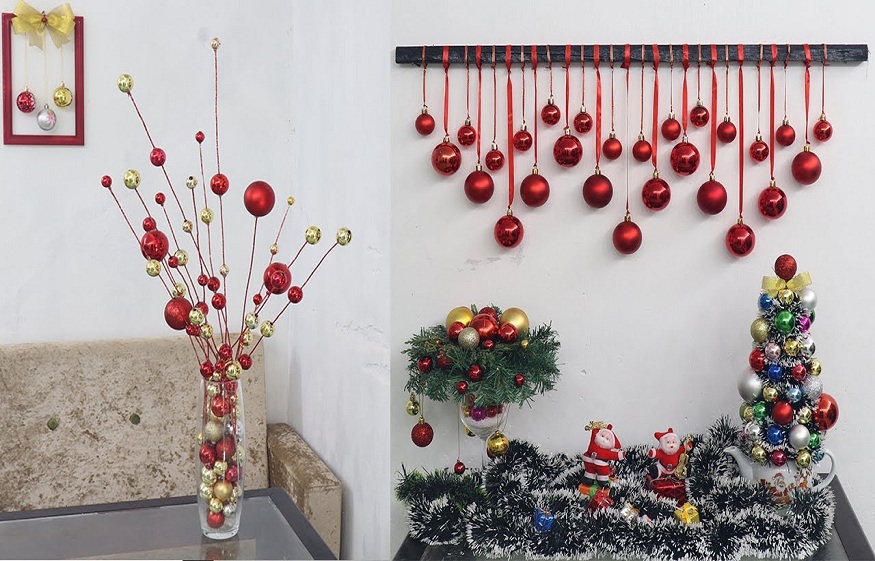 We are just a couple of weeks away from Christmas and it is the high time for you to pay attention to Christmas decorations. There are quite a few ways available for you to decorate your house for Christmas, while feeling the excitement of the season. Here are 10 effective ways that you can follow to decorate your house before Christmas. These are some of the simplest ideas to decorate your house, and you don't need to spend a lot of time or money on them.
Get candles
Getting candles is the traditional way to decorate your house for Christmas. You can think about getting candles for this year's Christmas decorations as well. Make sure that you buy around 15 white pillar candles in different lengths. You can mass together in a tray or a plate and keep at the center of your dining table. Then you can display all these candles while you are serving food. Make sure that you take a look at scented candles, which can assist you in making your house feel cozier.
Get some new art
To decorate your house for Christmas, you may also think about getting some new art. This doesn't mean that you should spend a lot of money to buy art. You can simply purchase some affordable wall art, which you can use to decorate your walls. Then you will be able to display seasonal colors with the help of them.
In case you already have art hung on the walls, you may think about switching them for the season. While getting art, you may also consider updating all family photos that you have framed to hang on the walls. This will help you to cherish the family moments you had throughout the year with your guests.
Get the smells of Christmas
You can easily create a festive aroma within your house with the smell of pine cones, orange, and cinnamon. There are multiple options available to et the smells of Christmas. They include fragrance sticks, air fresheners, scented candles, stovetop potpourri, and even a combination of these. Aromatherapy is identified as a perfect way to add cheer to Christmas celebrations. However, you should be careful not to go overboard by mixing these options extensively.
Hang stockings by your fireplace
The visual sight of seeing stockings hanging from your fireplace mantle would be an indication to everyone that Christmas season is coming. Instead of buying stockings, you can make them at your own home. This will provide you with the freedom to try any pattern of your preferences. For example, you may even stitch the initials of your family members on stockings.
Wrap all your doors
An effective way to make your house ready for Christmas would be to wrap all your doors. To wrap the doors, you can get construction paper or wrapping paper. Along with them, you should also be using ribbons. You should be careful to go ahead and wrap all the doors you have at home. They include the door of your fridge and cabinets as well.
Hanging garland
You need to go ahead and hang garland from mantles, windows, walls, and ceilings as well. which will provide a unique appeal to your home during the Christmas season. This is where you may thread differently sized cotton balls or pom poms on a clear string or a fishing wire to make a garland. With the help of garlands, you will be able to transform the looks of your mantels, doorways, hallways, windows, and even walls. If you can't make garlands at home, you can simply buy these hanging ornaments from a shop. They will not cost you a lot of money.
Fill in all the containers
You need to walk around your house and fill in all the containers as a part of the Christmas decorations. For example, you can fill in trays, plates, cake stands, baskets, and vases at your home. Then you can get them to look like luxurious displays. When filling the containers, you should be careful to use glittery and metallic ornaments. You have the freedom to pick them in colors of your choice.
Think about getting DIY snowflakes
Snowflakes are a perfect Christmas decoration available for you to consider. You will be able to keep them even after Christmas, till the end of winter season. If you don't have any time to make DIY snowflakes, you can purchase them from a dollar store. Or else, you can refer to one of the tutorials and make DIY snowflakes. The best thing about making DIY snowflakes is that you can style them according to your preferences.
Get pinecone decorations
You can easily purchase pinecone decorations. They can also be helpful when you are decorating your home for the Christmas season. The best thing about pinecone decorations is their versatility. In other words, you can do many beautiful things along with pinecone decorations. You can even transform the small pinecone decorations to Christmas trees. With the help of multiple pinecone decorations, you can go ahead and make a bigger Christmas trees.
Candy cane decorations
Candy cane decorations are not so common, but you may still think about getting them for the Christmas season. You can use candy canes to decorate places with cards, vases, and candlesticks. However, you are not just limited to these options, and there are quite a few more. If you have kids at home, this is a Christmas decoration that you should consider without keeping a doubt in mind.
Final words
Now you are aware of some of the best ways to decorate your home this Christmas. Instead of just sticking to traditional decorations, make sure that you look at ways on how to add a personal touch. This will help you to make your decorations stand out from the rest and let you and your loved family members enjoy seasonal celebrations.
This article was written by a quick house sale company We Buy Any Home. If you're wondering "how can sell my house fast", head to the We Buy Any House website for more information relating to all property related enquiries.